Indian National Congress mass movement "Bharat Jodo Yatra" is at its peak nowadays. Lots of people and big politicians have joined Rahul Gandhi.
But now the congress leader has a very critical problem in front of him. He has to make a very difficult choice that can create controversies across India.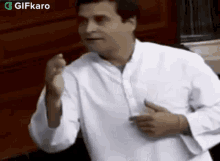 As per the reports, Covid-19 is back in China with its third wave. Around 2 Million people have lost their lives due to the pandemic.
So, the Indian government don't want to take chances this time. They already issued new covid guidelines for the people.
Apart from that, Union health minister Mansukh Mandaviya urges Rahul Gandhi and Ashok Gehlot to strictly follow the guidelines or postpone Bharat Jodo Yatra.
Here's an official notice:
Health Minister Urges Rahul Gandhi to Stop Bharat Jodo Yatra Due to Covid
Health Minister Mansukh Mandaviya started his letter by delivering respect and well-wishes to Rahul Gandhi. Then, he came to the point and told him about the covid problem.
Minister asks him to strictly follow the precautionary guidelines during the Yatra such as wearing masks, using sanitisers, allowing only vaccinated people in Yatra, isolating before taking them in, etc.
Thereafter, he asks Rahul, if he can't follow these things, he has to postpone it till it's over.
So, what do you think, how Rahul react to this and what will he do next?
Will Rahul Gandhi Stop Bharat Jodo Yatra and Go Against the Government?
This matter is regarding Covid-19 and we can't take a chance even if it is a political game to stop Bharat Jodo Yatra.
So, for the sake of the people, Rahul Gandhi should respect the government's decision till it's over. But if we talk practically, the Congress leader is not in the mood to stop.
One of his partners from Bharat Jodo Yatra, MP Adhir Ranjan Chowdhury tweeted regarding this. He said, "I want to ask the BJP, did Prime Minister Narendra Modi follow Covid protocols during Gujarat polls?
"I think Mansukh Mandaviya is not liking Rahul Gandhi's Bharat Jodo Yatra, but people are liking it and joining it. Mandaviya has been deputed to divert the public's attention."
According to me, Rahul will protest against it. What do you think?