Kamal Rashid Khan, one of the most popular leaders of a boycott Bollywood gang is dealing with some serious issues right now.
Through his tweets, the critic recently explained how he is receiving death threats from Bollywood stars. He claimed that they put a bounty on his head.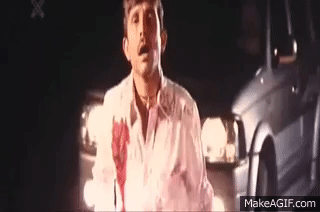 KRK even said that they'll kill me just like they kill Sushant Singh Rajput. Although, no one takes him seriously, but still I bet you'll enjoy reading his tweets.
KRK Accussing Bollywood of Giving Him Death Threats
KRK tweeted the post on 18th December and wrote in a way of answering Bollywood stars for giving him death threats. However, he didn't mention anyone's name. Here's the tweet:
You all so called super stars do charge ₹125Cr per film. And then you get scared of only one Critic's review. Therefore you want to kill him to make your crap films super hit. So for me, you are not super stars but you are Bukhari. Aaa Thooo on such a miserable life.

— KRK (@kamaalrkhan) December 18, 2022
Thereafter, the social media critic dragged Sushant Singh Rajput into it. He said Bollywood is going to kill him as they did Sushant. Here's the tweet:
अगर मुझे धमकाया जा रहा है, तो फिर सुशांत सिंह को भी धमकाया गया होगा! अगर मुझे मारने की कोशिश की जा रही है, तो फिर शायद सुशांत को भी मारा गया होगा!

— KRK (@kamaalrkhan) December 18, 2022
Later, KRK pointed out the people who are giving him threatening calls in his tweets. He said one actor, one politician and one police officer are involved in this. Check out here:
My lawyers have already filed petition in Bombay High Courts to quash the FIRs. Once it's done then I will call the press conference to tell to world that who gave my Supari. And who tried to kill me in Jail. One actor + one politician + one police officer planned conspiracy.

— KRK (@kamaalrkhan) December 18, 2022
Stop me from doing reviews is a different thing. But plan to kill me is another thing. And they planned to kill me. Means they are sacred of my review. I am lucky enough that I am alive today. While a police officer is still threatening me for encounter and I am still not afraid.

— KRK (@kamaalrkhan) December 18, 2022
KRK Controversy With Pathaan
KRK has been tracking every move of Shahrukh Khan and Deepika Padukone since the release of Pathaan's teaser.
He is commenting on everything they say or they do. So, if my prediction is right, he is going to place Shahrukh Khan's name into the slot of an actor (people who are giving him threatening calls).
Here are his previous tweets regarding Shahrukh Khan, Deepika Padukone and Pathaan:
According to #SRK if someone says lie and calls him the biggest movie star of the world, then he is a positive person. But if someone tells him reality and calls him flop actor, so he is a negative person. Means he doesn't want to hear truth. बरसात के अंधे को सब कुछ हरा दिखता है!

— KRK (@kamaalrkhan) December 19, 2022
Calling a bad thing bad, is not negative. You find it negative because you don't want to hear the truth. The truth is bitter.

— KRK (@kamaalrkhan) December 19, 2022
SRK is proving that he is Asli #Pathaan. He said:- If boycott gang is thinking that I am afraid of them, then they are wrong. If my acting career will be finished then I will become a cook and open a catering company. Lekin Jhukoonga Nahi. And I love him for this attitude.

— KRK (@kamaalrkhan) December 19, 2022
These tweets are pointing out SRK's statements at Kolkata Film Festival. Apart from them, he also commented on Deepika's outfit in Beshram Rang song.
I do remember, once upon a time I was doing promotion of #DeepikaPadukone and everyday giving her kiss on Twitter. But now I regret for my act after seeing real Deepika in the song #BesharamRang! My God, How can I do promotion of such a horrible looking girl.

— KRK (@kamaalrkhan) December 19, 2022
Deepika was sitting in the stadium watching #FIFAWorldCupFinal and cameraman didn't show her one time also. Because Cameraman was busy shooting the game. Agar madam cricket match Dekhne Jaati, Toh Cameraman every 2 minutes ke baad madam Ko Hi Dikhata.

— KRK (@kamaalrkhan) December 19, 2022
Also Read:
Most Embarrassing Moment for Ananya! Ignored by her Crush in Public, Watch Viral Video