Most girls complain of acne breakouts and rashes on their faces after makeup. Sometimes your sensitive skin might be the reason but the use of dirty brushes and sponges is the reason most of the time. Keep them clean and if you don't know how to clean your makeup brushes, this post is only for you.
Because we believe beauty routine is not just about keeping your skin clean; cleaning makeup products is equally important. And since brushes and sponges are the ones used regularly, they need utmost care.
How to Clean Makeup Brushes?
Putting your brush into running water seems the right way but not the recommended method. It's because the bristles and deepest area of the brush still hold some makeup residual which doesn't get removed through water alone.
So, what to do? Follow this easy step by step process
Method 1- Use Baby Shampoo
Take a spoon filled with baby shampoo and mix it with warm water
Dip the brush into the mixture and swirl it for cleaning
Wash the brush again with clean water to remove shampoo as you do it with your hair
Remove any extra water and put the brush on a flat surface for drying
This method to clean a makeup brush is applicable if you don't use heavy makeup products like oil-based foundation. They leave greasiness behind making cleaning a bit difficult with just water and shampoo. The second method is effective in this case.
Method 2- Deep Clean with Oil
In a bowl, add shampoo, water, and 1 tablespoon of olive oil.
Put the brush inside the bowl and swirl it for 20 seconds
Wash until the water turns cloudy or dirty
Rinse the brush in clean water and leave it for drying
Method 3- Try a Cleaner
For those who really care about their makeup tools, a liquid cleaner is worth buying. They are effective solutions with bacteria-killing power so that your makeup brush not only looks clean but also safe to use.
Here are a few best cleaners you can get from the market :
Ecotools makeup brush shampoo
Cinema Secrets Pro Cosmetics
Luxe
Selene makeup cleaner
RICRIS premium
These products are available on Amazon and a few come with a dryer too
Method 4- Use Experts' Method
Want to know how to clean makeup brushes like an expert? Learn their secret technique. Professionals use dish soap as a secret ingredient to keep their tools tidy and safe from harsh cleaning agents.
Method 5- Spray Alcohol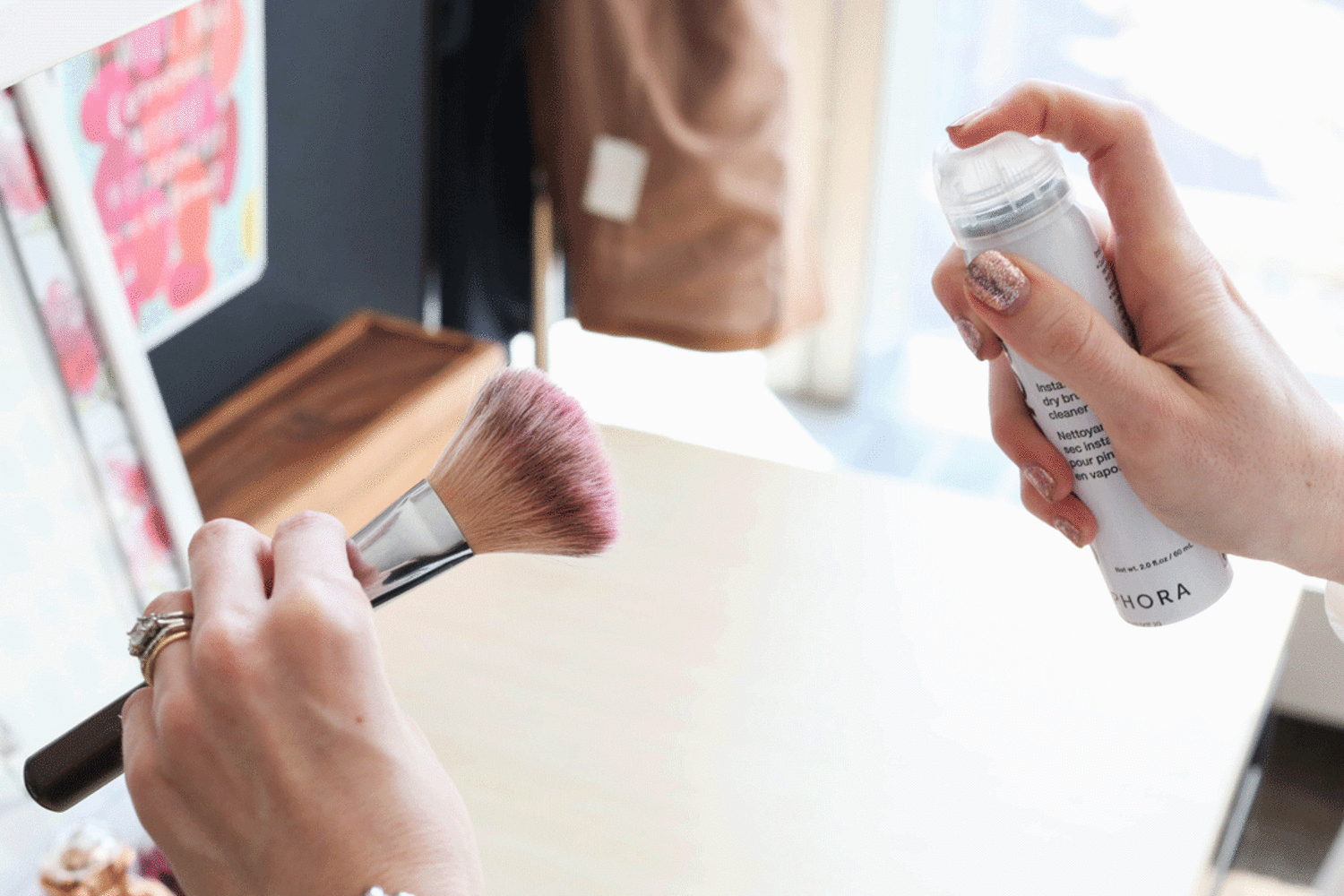 Though it's safe to clean brushes once a week, it's a good practice to clean them every day. You can try this method if you are a hygiene freak and don't want to apply anything untidy to your face.
Start with spraying rubbing alcohol on the tip of the brush
Use a clean cloth or tissue paper to wipe it off
Show some sunlight to the brush for drying
Try any of these 5 ways to clean makeup brushes and sponges. Remember not to hold the brush straight while washing into the water as this will damage the adhesive used to stick bristles.