Today is the deciding day for major political parties as Assembly Elections 2022 runs in 5 states- Goa, Manipur, Uttarakhand, Punjab and UP. The latest trends show this election is tough fight between two parties AAP and BJP .
However, the picture of poll results is not vague in Punjab where AAP candidate Bhagwant Mann is leading with more than 43,000 votes.  Let's see who else is leading and where.
Assembly Elections 2022 Exit Polls Result So Far, Who's Leading?
Punjab
Kejriwal's Aam Admi Party has total 90 seats in Punjab whereas Congress has 18 seats and BJP has only 2 seats. So, all eyes are on the AAP's major contenders where Bhagwant Mann seems to unseat current CM Charanjit Singh Channi.
Channi is however having firm hold on Bhadur and Chamkaur Sahib. On the other hand, Congress leaders are doing well in their respective constituencies. Despite the massive voting, Punjab is recording lowest voting percentage from the last 3 years.
Uttar Pradesh
BJP has the strong hold in UP with Yogi Adiyanath as the strongest contender who is leading from Gorakhpur by 12000 votes. The party has total of 248 seats where the latest trends show it is going to sweep other parties in the election result again. It had started leading within 2 hours of counting of votes.
The exit polls indicate that it will soon cross the mark of 200 and win the majority. Samajwadi Party leader Akhilesh Yadav may again lose against BJP. Talking about AAP and Congress, they have not even a slightest of hope in UP.
Goa
#WATCH "The credit for this win goes to the party workers…BJP will form the govt in Goa," says Goa CM Pramod Sawant#GoaElections2022 pic.twitter.com/dVGPvnNidh

— ANI (@ANI) March 10, 2022
Goa is again a major seat for BJP where it has total of 19 seats, Congress is second most popular with 11 seats and AAP has only 2. As per latest exit polls of Assembly Elections 2022, BJP is leading with 18 seats which clearly make way for the party.
BJP's candidate Joshua D'souza, Pramod Sawant, Krishna Salkar are leading in their respective constituencies.
Uttarakhand
Uttarakhand state is divided with 42 seats for BJP, 24 for Congress and 4 seats for other parties whereas Congress has no seat in the state. As per live polls, BJP will return again in the state as it is winning on 44 seats with Pushkar Singh Dhami as the face for CM. Congress is also leading in 21 seats with their ministerial candidate Harish Rawat.
Manipur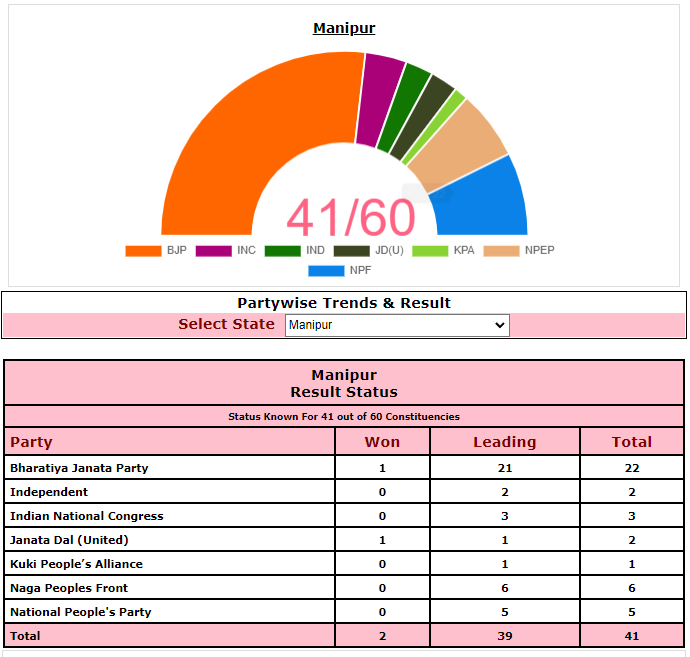 BJP is leading with 21 seats in Manipur where Congress is second with 3 seats, NPP with 5 and other parties leading with 10 seats.