Suspense thrillers, comedy, and horror are some of the most preferred genres of any time. But at some point in our lives, we all need a romantic dose to kick hidden emotions inside us.
Then we always ended up on some specific evergreen Bollywood dramas such as DDLJ, Veer Zaara, Maine Pyar Kiya, Kuck Kuch Hota Hai, etc.
But if you want some new love stories to hit your heart in a modern way, then here are some of the best romantic Bollywood movies of a new era. Check out.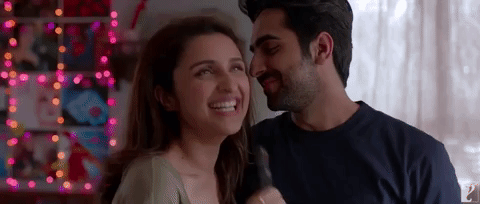 Top 10 Best Romantic Movies Ever Made in Bollywood
1. Raanjhanaa
If you were also a one-sided lover once, then watch Raanjhanaa right away on my personal recommendation. I bet, the movie will refresh your childhood memories.
The movie follows the love story of Kundan Shankar, who is waiting for his childhood girlfriend Zoya to come back to Banaras.
But fate has some other plans. In the gap of 8 years, Zoya fell in love with another man and wants to marry him.
Cast: Dhanush, Sonam Kapoor, Abhay Deol, Swara Bhaskar, Kumud Mishra
IMDb Rating: 7.6/10
---
2. Rockstar
Rockstar is a story that will make you believe love is superior to anything in the world.
It is the story of Janardhan Jakhar who desperately want to be a musician. One day, when his friend advised that he can't be a musician without heartbreak, he starts searching for true love.
However, Janardhan finds it in Heer and lets her go for his dreams. But by the time, he realises that she is the only one he wants.
Cast: Ranbir Kapoor, Nargis Fakhri, Aditi Rao Hydari, Sanjana Sanghi, Kumud Mishra
IMDb Rating: 7.7/10
---
3. Ae Dil Hai Mushkil
Ae Dil Hai Mushkil is one of the best romantic movies ever created by Bollywood. It shows us a new angle of love we have never seen before.
The plotline of the movie follows Ayan, a rich boy who wants to be a musician and Alizeh, an independent woman with a grievous love experience.
Eventually, they meet in a bar and then share an incredible bond of friendship. But when Ayan fall for Alizeh, he gets to know some heartbreaking facts about love.
Cast: Ranbir Kapoor, Anushka Sharma, Aishwarya Rai Bachchan, Fawad Khan, Lisa Hyden
IMDb Rating: 5.8/10
---
4. Barfi!
Barfi is another love story of Ranbir Kapoor that has won many awards for its story, acting and screenplay.
The story of the movie proves that love needs nothing except a pure heart. And if you become selfish in it, your life is going to be hell.
The movie follows a dumb & deaf guy Barfi, who falls in love with a young and beautiful girl Shruti. But despite loving Barfi, Shruti leaves him because of his disability.
Years later, Shruti reunites with Barfi. But this time, Barfi got someone special in his life, Jhilmil.
Cast: Ranbir Kapoor, Priyanka Chopra, Ileana D'Cruz, Saurabh Shukla
IMDb Rating: 8.1/10
---
5. Manmarziyaan
Manmarziyaan is also a film that focuses light on selfless love. It is the story of Rumi having a great love relationship with Vicky.
But when Rumi's parents pressurize her to get married, Vicky doesn't commit to marrying at the time.
Out of rage, Rumi marries Robbie, an understanding NRI who helps Rumi to find her true love.
Cast: Taapsee Pannu, Vicky Kaushal, Abhishek Bachchan, Swara Bhaskar, Ashnoor Kaur
IMDb Rating: 6.9/10
---
6. Aashiqui 2
Aashiqui 2 is a 2013 sensation which appeared as one of the greatest love stories of all time.
It follows the story of a superstar singer, Rahul Jaykar who is addicted to drinking alcohol. One day, he meets Arohi and totally falls in love with her voice.
Thereafter, he helps her to achieve her goals, but his own failings destroy their future.
Cast: Aditya Roy Kapoor, Shraddha Kapoor, Shaad Randhawa, Mahesh Thakur
IMDb Rating: 7/10
---
7. Yeh Jawaani Hai Deewani
We all had that one moment when we choose our career over love. And Ye Jawani Hai Deewani has successfully showcased that feeling on the big screen.
It is a love story of Bunny, a cool stud with great plans and Naina, a normal girl with a very simple life.
The two of them crossed each other's path on a trekking trip and unknowing fall for each other. 8 years later, they reunite at a friend's wedding.
Cast: Ranbir Kapoor, Deepika Padukone, Aditya Roy Kapoor, Kalki Koechlin, Kunaal Roy Kapur
IMDb Rating: 7.2/10
---
8. 2 States
2 States does not come with a very new concept but can still raise your heartbeat. The story of the movie shows the struggle of Krish and Ananya in order to get married.
The problem is that they both belong to totally different cultures, Krish is Punjabi and Ananya is Tamilian.
Cast: Arjun Kapoor, Alia Bhatt, Swara Bhaskar, Amrita Singh, Shivkumar Subramaniam, Ronit Roy, Revathi
IMDb Rating: 6.9/10
---
9. Jab Tak Hai Jaan
It's not possible, we make a list of the best romantic Bollywood movies and do not mention Shahrukh Khan.
Jab Tak Hai Jaan is one of his masterpieces, which shows how superstition can ruin your relationship.
The plotline shows the love story of Samar and Meera, who deeply falls for each other in London. But Meera leaves him because of her promise to God in return for saving Samar's life.
Thereafter, Samar goes back to India and becomes a bomb disposal specialist. Years later, he meets Akira, who sets herself on a mission to unite the lovers.
Cast: Shahrukh Khan, Katrina Kaif, Anushka Sharma, Ranbir Kapoor, Neetu Singh, Anupam Kher
IMDb Rating: 6.7/10
---
10. Tamasha
Ranbir Kapoor again! Tamasha is his fifth movie on the list, which tells us people are always like they seem. If you don't understand, then you will only understand after watching this movie.
Talking of the story, Ved and Tara meet during the holidays in Corsica. Both of them wows not to reveal their true identities and never meet each other after the holidays.
After the vacation, Tara realises she is in love with Ved and starts trying to find him. But when she meets him again, he is not the character she knew, he is someone else.
Cast: Ranbir Kapoor, Deepika Padukone, Vivek Mushran, Sushma Seth
IMDb Rating: 7.3/10